Slovensko v mobile app activation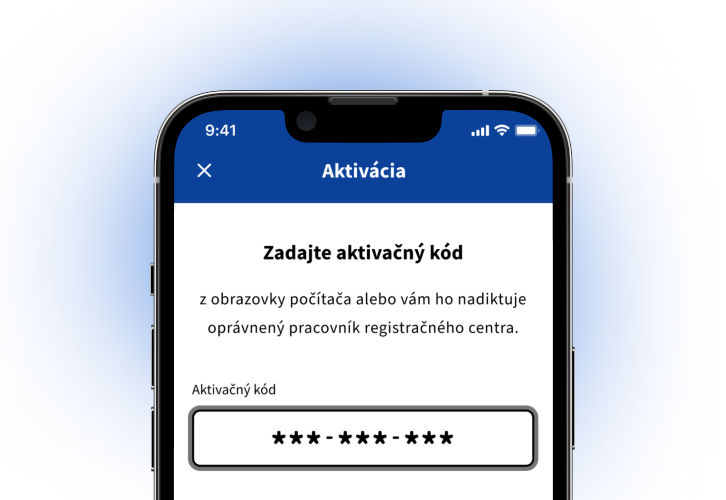 Once the app has launched, a quick activation is performed to verify your identity.
To activate, you will need your ID card with chip, an ID card reader and a stable internet connection. It is also important that your computer contains the appropriate software to load your ID card correctly.
The activation process itself starts on the web portal and consists of four quick steps that will take you no more than 10 minutes. Start the activation process by pressing the "Activate Online" button in the header of the web portal. Once the activation has started, you will then log in with your ID card and reader. This step verifies your identity and provides secure access to your data.
Pay attention to the PIN
The second step is to create an access PIN in the mobile application, which you will use every time you access the Slovensko v mobile app. It is essential that it contains 6 digits, and avoids consecutive numbers or their repetition. Do not use letters or any special characters. Remember your PIN or save it somewhere safe.
As the third step, you need to generate a unique activation code on the web portal, overwrite it in the app, and use the matching code from the mobile app to complete the app activation. To generate the activation code, click on the green icon labeled "Generate Activation Code" on the web portal. Make sure your PC and mobile device are connected to a stable internet connection. Enter the activation code in the correct format into the mobile app or scan the QR code generated with your device.
You will then need to enter the 6-digit pairing code into the web portal, which would have been displayed on your mobile phone after the activation code had been verified. Wait for it to be verified. Congratulations, your app has just been activated and thanks to it, your login to slovensko.sk will from now on be faster and easier.
For more detailed instructions on how to activate the mobile app, please visit Online app activation page or video tutorial of activation (YouTube).
Publication date: