Secure mobile key login to government services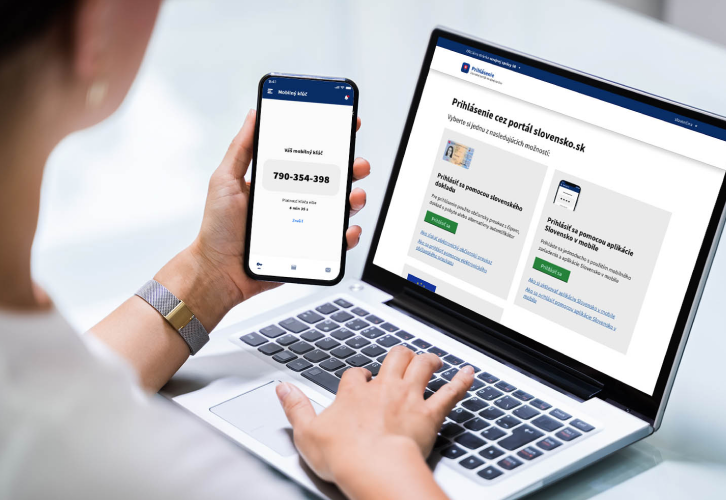 The current method of logging in to government services is secure, but difficult and complicated for the user, mainly because the user needs to have an ID card reader available at each login, along with software capable of communicating with that reader. The ambition of the Slovensko v mobile app is to solve this problem as well.
If a user downloads and activates the Slovensko v mobile app, by means of a one-time verification of his identity by reading his ID card with a chip using the reader, he activates the function of logging in to government services using the mobile key in the application.
This means that the process that an electronic mailbox user had to go through each time they logged in will now only need to be done once. From now on, the user will only need to use the Slovensko v mobile app to log in to the mailbox.
Logging in with a mobile key rapidly increases the accessibility of government services, mainly because it will no longer be necessary to have an ID card, a reader and a computer with suitable software for communication with the reader.
With the mobile key, the same user of an electronic mailbox can log in to their mailbox from anywhere. All they need is a computer with internet access and their own smartphone with the activated app.
How do I log in with the app?
To log in to the required service, the user only needs to have the Slovensko v mobile app activated. Once the application is launched, the user is verified by entering the PIN code that was created during activation.
Subsequently, a screen will appear in the application where the user can use the "Generate mobile key" button to generate their mobile key.
By overwriting and confirming the generated key in the web portal of the e-service, the user verifies their identity and this step successfully completes the login.
Alternatively, the user can choose to generate a QR code when logging in to the required service using the mobile key, which is retrieved by pressing the "Scan QR code" button in the Slovensko v mobile app. The whole process of user authentication and login will thus take place automatically in the background of the system.
For more information on how to activate the application, check the Slovensko v mobile app activation page.